by: Jean Hanff Korelitz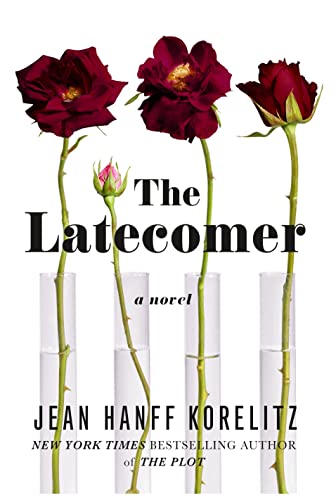 Goodreads description:
From the New York Times bestselling author of The Plot, Jean Hanff Korelitz's The Latecomer is a layered and immersive literary novel about three siblings, desperate to escape one another, and the upending of their family by the late arrival of a fourth.
The Latecomer follows the story of the wealthy, New York City-based Oppenheimer family, from the first meeting of parents Salo and Johanna, under tragic circumstances, to their triplets born during the early days of IVF. As children, the three siblings–Harrison, Lewyn, and Sally–feel no strong familial bond and cannot wait to go their separate ways, even as their father becomes more distanced and their mother more desperate. When the triplets leave for college, Johanna, faced with being truly alone, makes the decision to have a fourth child. What role will the "latecomer" play in this fractured family?
A complex novel that builds slowly and deliberately, The Latecomer touches on the topics of grief and guilt, generational trauma, privilege and race, traditions and religion, and family dynamics. It is a profound and witty family story from an accomplished author, known for the depth of her character studies, expertly woven storylines, and plot twists.
Helen says: 🤓🤓🤓🤓 (maybe more?)
Jean Hanff Korelitz is quickly becoming one of my favorite authors.  I absolutely love everything she writes! This book kind of grew on me.  It got better and better.  I read a review that said reading this book was a chore, and I would totally agree.  I chugged along though.  It was extremely well written and very in touch with life's nuances.  Don't skim it – there may be a lot of mundane details, but they are mixed in with very important information.  This review sounds like I didn't really like it, but I LOVED it.  It probably won't appeal to everyone though.  All of my favorite topics were covered- art history, politics, Mormonism and it's weird history….lots to "unpack" in this book.
Holly says: 🤓🤓🤓🤓1/2
The Latecomer was my favorite book of the month in a month of really good books. You won't exactly love every character in this story, but you will love reading about every character in this story. I am pretty sure the Oppenheimers put the "dys" in "dysfunctional family" – far surpassing the Delaneys of Apples Never Fall, and right up there with the Lamberts in Jonathan Franzen's The Corrections. This book made me think about things I have never considered. A thought-provoking literary novel with plenty of wit and humor. Jean Hanff Korelitz is quickly becoming one of my favorite authors (see: The Plot). I highly recommend this one.